Commercial Outdoor Picnic Tables Canada
Commercial park picnic tables give families and individuals a place to sit together, enjoy a meal and spend time surrounded by nature. Whether installed near a playground or outside a shopping center, picnic tables are essential elements for making Canadian cities and towns welcoming, comfortable and functional for community members. If you need commercial outdoor picnic tables to add to your project or space, PlayPower Canada has what you're looking for.
A Wide Selection of Picnic Tables and Benches in Canada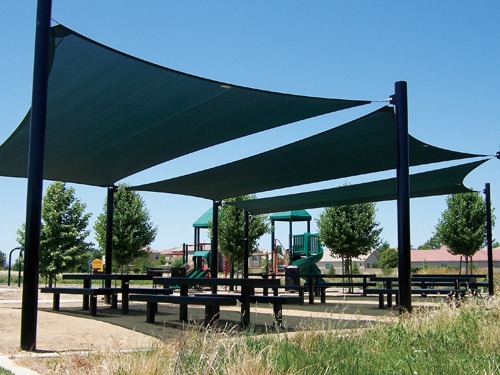 At PlayPower Canada, we know that different markets have different requirements for their site furnishings. That's why we offer a wide selection of commercial outdoor picnic tables and benches, including:
In-ground picnic tables
Portable picnic tables
Circular and square picnic tables
Tables with attached chairs
Tables with backs
Our commercial outdoor picnic tables come in a variety of colors, so you can choose an option that blends into the background or a fun design that draws attention. We also offer several wheelchair-accessible outdoor picnic tables, which allows you to design inclusive landscapes accessible to all members of a school, community or organization.
Commercial Picnic Tables Made to Withstand the Elements
Durability and longevity are some of the most important factors our customers consider when choosing site furnishings. Commercial outdoor picnic tables are expected to stand up to frequent use, and all commercial outdoor picnic tables need to withstand the elements, keeping their appearance through harsh Canadian winters and blazing hot summers.
To meet expectations for durability and ensure our products have long lifespans, PlayPower Canada offers picnic tables with perforated steel surfaces and powder or Plastisol coatings. The coatings protect the underlying metal from natural elements to prevent corrosion and keep the installation looking beautiful for years.
Custom Picnic Table Solutions to Meet a Variety of Needs
Commercial outdoor picnic tables make functional and aesthetically pleasing additions to a variety of public and private settings, including schools, parks, playgrounds, apartment complexes, commercial outdoor seating areas, business parks and more. At the same time, distinct markets have different goals for their outdoor seating. Schools may choose school picnic tables with playful appearances and durable construction, while some businesses may prefer options that feel nicer.
Whether you're looking for tables to feature prominently in your design or provide simple functionality within a tight budget, PlayPower Canada can help. If our consultants cannot find an option that meets your requirements in our catalog, we will develop a custom solution that does.
Reach Out to Get Commercial Park Picnic Tables and Benches in Canada
At PlayPower Canada, we have provided Canadian communities with high-quality site furnishings and playground equipment since 1947. Today, we serve customers in all provinces and territories by supplying and installing commercial outdoor picnic tables and other products from some of the most respected companies in the world, including Little Tikes Commercial, Miracle Recreation and Wabash Valley.
To see how PlayPower Canada could assist with your next project, request a quote online, or contact us for more information.