Guide to Maintaining Site Furnishings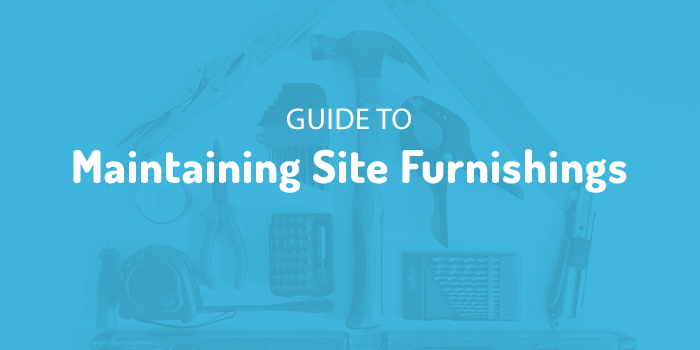 To increase the appeal and functionality of your outdoor setting, you've invested in high-quality site furnishings. Now you want to know how to make this equipment last. Outdoor furnishings are constantly exposed to the elements, so how do you prevent wear and tear from ruining your investment? Here's how to care for your outdoor site furnishings.
Read the full article or jump to a specific section:
Wood
Wood furnishings give a space a natural, classic appeal. Wood is sturdy and solid, but it may expand or shrink due to changes in temperature and moisture. You can keep your wood picnic tables and other furnishings at their best by maintaining them regularly.
1. Wipe Down With Wood Cleaner
To keep wood equipment like outdoor picnic tables and park benches durable and appealing, you can wipe down the piece of equipment with a wood cleaner. This cleaner will remove any buildup, grime or grease from the wood.
2. Inspect for Issues
After wiping down the wood picnic table or bench, check for any needed repairs, such as broken planks or splintering wood. Is there any loose or missing hardware? Tighten loose screws and replace missing bolts.
3. Sand the Wood
Finally, you'll want to sand the wood periodically. After sanding, apply a fresh coat of stain, oil or polyurethane to the equipment. This fresh coating will renew the wood's protective barrier. You may need to perform this routine maintenance only once a year or more frequently depending on the weather conditions in your location.
Learn More About Our Site Furnishings
Plastic
Recycled plastic picnic tables are built from a lot of plastic materials, resulting in a product that can last more than 50 years with little maintenance. What regular maintenance will keep your plastic playground picnic table and other furnishings in the best condition?
1. Use a Mild Cleaner
To clean recycled plastic furnishings, you can use a mild cleaner. One option is baking soda, which is effective on stubborn stains. Avoid using an abrasive material that can scratch the surface of the plastic.
2. Check for Damages
After you finish cleaning the piece, check for damages and hardware issues. Are there any loose or missing pieces of hardware? Are any repairs needed? If so, complete the repairs as soon as possible to ensure the stability and safety of the equipment.
3. Restore Shine
Does the surface of your plastic playground picnic table seem dull? To restore the shine of your recycled plastic furnishings, you can use wax. Avoid using WD-40, as it may accelerate the breakdown of plastics. Instead, you can choose to apply a coat of Armor All. This should protect the surface of the equipment.
Metal
If you're searching for durable, long-lasting corporate picnic tables, consider outdoor site furnishings made of metal. Metal can hold up against weather conditions and is more durable than wood, as it won't crack or warp. However, metal furnishings can become corroded if not cared for properly. But with the right maintenance, corrosion can be avoided. What sort of maintenance should you perform on your metal benches and picnic tables?
1. Rinse With a Nonabrasive Cleaner
The first step to maintaining your metal outdoor furnishings is to rinse the equipment with a cleaner that isn't abrasive.
2. Check for Hardware Issues
Next, check for hardware issues, such as missing hardware, loose hardware and broken welds. If you find any hardware issues, make those necessary repairs as soon as possible.
3. Check for Surface Damage
After you've completed the necessary hardware maintenance, check for surface issues. Are there any signs of rust? What about any signs of cracked or chipped coating? If you see any rust, promptly take action to get rid of the rust before it continues to spread across the metal.
4. Get Rid of Rust
To rid your metal furnishings of rust, sand off the corrosion with gentle movements. After you're finished, locate the areas of the coating that have been compromised and touch them up with the proper coating material or paint.
5. Apply a Tough Coating to Shield Metal
Use a tough coating to shield the metal and prevent corrosion in the future, such as polyethylene, powder coating or thermoplastic. This coating has the added benefit of introducing a new color and texture to your furnishings.
Aluminum
For durable, lightweight, recyclable picnic tables and benches, try furnishings made from aluminum. Outdoor furnishings made from this material also tend to be low maintenance and resistant to many environmental and weather conditions. That's what makes aluminum ideal for so many outdoor furnishings.
Even if your aluminum furnishings are exposed to cold, heat, salty air or spills, they can prove to be durable and resilient for years if properly maintained.
1. Use a Gentle Cleanser
Fortunately, aluminum is a relatively low-maintenance material. The maintenance that it does require is also quite easy. First, wash the table or bench down with a gentle cleanser. Avoid using alkaline products, since these can lead to oxidation.
Perform this task regularly to maintain the appearance of the furnishings.
2. Inspect for Damages
Next, inspect the furnishings for damages. Is there loose or missing hardware? If you find any damages or hardware issues, try to make the repairs promptly.
3. Apply Wax
To enhance your equipment's appearance and give it an additional layer of protection, apply a coat of automotive wax. Apply a second coat for more protection.
Commercial Site Furnishings Checklist
Follow a checklist to ensure you're properly maintaining the furnishings of your commercial site, including park benches, picnic tables, trash receptacles, grills, outdoor dining areas, bleachers and bike racks. If your equipment is available to the public and subjected to heavy usage, keeping up with regular maintenance is essential.
Use this checklist to make sure you're properly tracking and maintaining your commercial site furnishings:
Inspect screws, bolts and fasteners. Tighten and replace as necessary.
Keep products free of grime, dirt and grease.
Regularly lubricate parts that require it.
Monitor for missing hardware.
Repair chipped or cracked coatings.
Remove damaged furnishings until they can be repaired.
Fix cracked or broken joints and welds.
Touch up coating or paint.
Examine wood furnishings for splintering and repair by sanding.
Fix loose seats, legs, armrests, planks, frames and other parts.
Establish a schedule for maintenance and inspection.
Document steps and accountable parties.
Monitor for vandalism.
Keeping up with the maintenance of your commercial site furnishings will ensure you don't have to deal with bigger maintenance problems down the road.
Find Playground Equipment From PlayPower Canada
For more than 70 years, PlayPower Canada has been the leading provider of playground equipment, site furnishings, fitness equipment and more in Canada. Our equipment is designed for durability, inclusivity and safety. Request a quote for commercial site furnishings from PlayPower Canada today.