Guide to Choosing Playground Equipment
Playground equipment comes in just about all shapes and sizes. It can be challenging to choose the best playground equipment for schools, parks or community centers when there are so many different types of playgrounds. Nevertheless, a playground is a necessary component of a nurturing community. Playtime at the playground helps kids develop lifelong skills, build relationships and get the physical activity they need.
We put together this guide to help you choose playground equipment the children in your community will love, and that suits your needs and budget. Once you consider the most important factors, choosing playground equipment becomes a much more manageable task, and it can even be a lot of fun. Just imagine the impact your playground can have on your community for years to come.
Read the full article or skip to a specific section:
Factors to Consider
Your playground will help the children in your community grow, stay active and create memories they'll cherish for life. It's critical to choose exciting equipment that will motivate kids to step away from the screen and get outside to play. We understand you also have a budget and limited space to work with, so you'll need to find the right balance between fun and practicality. It helps to make a list of everything you need to consider before shopping for equipment. Here's our list of important factors to consider to help you find playground equipment that works for you and your community.
1. Location
First, you'll need to consider where you plan to install playground equipment and how much space you have, including overhead space. Once you measure the dimensions of the area available for playground equipment, you'll be able to select equipment that fits and leaves adequate room for kids to move freely and play safely.
Most manufacturers list equipment measurements and the amount of space needed for kids to use the equipment safely, so you should be able to determine if a piece will fit easily. Just make sure to consider the room you'll need around the equipment as well. For example, according to the CSA Standard, the use zone around climbers should extend at least 1.83 meters or six feet in all directions from the climber. Likewise, swings need adequate clearance to prevent collisions between swings.
If you're worried about space limitations, know that there's plenty of exciting equipment available regardless of area size. For example, if your play area will be small, a spin rocker doesn't take up much space but offers a ton of fun. If you have a large area available for a playground, your options are nearly limitless.
You'll also want to consider how much sun exposure the location gets, and keep this in mind when selecting equipment. For example, if the space gets a lot of direct sunlight, you'll want to avoid purchasing bare metal equipment, as this could increase burn injury risk. You might also consider adding equipment that offers shade, such as forts or other structures with roofs.
Lastly, consider the plants and trees surrounding the playground, and how you can incorporate those elements with the playground equipment you choose.
2. Needs and Budget
Before you buy playground equipment, consider what you need and how much you can afford to spend on equipment alone. Ask yourself questions such as:
How many children will be using the playground?
Is the ground even, or will it need to be leveled?
Does the site have proper drainage?
Will you need to add shade structures to the area?
Are there certain play experiences you wish to create for children?
Are there certain themes or colors you would like to incorporate in your playground?
Are there additional amenities you'll need to add to your playground such as benches, restrooms or parking?
Which existing playground equipment do you plan to keep, and which pieces do you need to replace?
Will you need new surfacing to go beneath the new playground equipment?
Will professionals install the equipment, or will the community build the playground?
Who will maintain the new playground equipment?
Do you plan to invest in high-quality equipment that will last for years, or do you need the most affordable options that still comply with standards?
Although the playground equipment will be your largest expense, make sure to leave room in your budget for the following:
Installation
Site preparation such as adding drainage, surfacing or borders
Taxes and shipping costs
Site furnishings
Maintenance costs
Playground signage
3. How Much Does Playground Equipment Cost?
Prices vary between playground equipment manufacturers, and you must also consider the additional costs of accessibility ramps and customized features. Generally, if you're building a playground from scratch, plan to budget around $1,000 per child. So, if you need to build a playground that accommodates 30 children, plan to spend around $30,000.
There is such a vast range of playground equipment available you're sure to find equipment to meet your needs –– even if you're on a tight budget.
4. Age Group
Consider the ages of the children who will be using the new playground equipment. You need to choose age-appropriate playground equipment so kids can avoid injuries as they play. Age-appropriate equipment also provides the stimulation kids need to grow and develop physical, social and cognitive skills. With the right equipment, the kids at your playground won't even notice they're exercising and building new skills, because they'll be too busy having fun.
If your playground needs to accommodate various age groups, consider how you'll separate different play areas and keep young children from playing on equipment for older kids.
Ready for some ideas? Here are the different age groups and equipment ideas to help you choose fun age-appropriate equipment.
A. Toddlers
Toddlers are developing tons of new skills such as climbing, balancing and coordination skills. Playground equipment for toddlers should encourage safe development of motor skills, provide sensory stimulation and offer opportunities to play make-believe. Consider choosing playground equipment such as:
Climbing structures
Ramps
Step ladders
Playhouses
Swings with full bucket seats
Spring riders
Spiral slides
Individual tunnels
Shaded areas to sit
Sensory activities
B. Preschoolers
Preschoolers are full of energy and need adventurous activities that allow them to climb, balance, and test their physical abilities. Preschool children are also developing social skills and cognitive skills at a rapid pace. Playground equipment should encourage preschoolers to share, take turns, play well with other children, solve problems and use their imagination. Some examples include:
Balance beams
Playhouses
Safe but challenging climbing structures
Merry-go-rounds
Tire swings
Rung ladders
Bridges and ramps
Activity panels
Tunnel slides
C. Elementary School
Children in elementary school are still growing, but they have developed a range of motor, cognitive and social skills. Children in this age group love to stay busy, enjoy a variety of activities, know how to cooperate with others and like to play games and sports. Elementary school children need playground equipment that will challenge and stimulate them, as well as provide opportunities for enjoying playtime with friends. Examples include:
Vertical sliding poles
Arch climbers
Chain or cable walks
Slides
Freestanding climbing activities
Overhead rings
Seesaws
D. Outdoor Play Equipment for Older Children
Fun at the playground doesn't have to stop for older children. Adolescents also need to exercise, get plenty of sunshine and spend time with friends. Older kids need at least one hour of moderate to intense physical activity every day, and they should include bone-strengthening and muscle-strengthening activities at least three days a week in their routine. Because teenagers are far more independent than younger children, they need access to fun equipment that will motivate them to stay in shape. Here are some playground equipment ideas for older kids:
Swings
Oversized climbers
Monkey bars
Outdoor fitness equipment like TrekFit
5. Inclusive and Accessible Equipment
Make sure to incorporate inclusive and accessible playground equipment in your playground. An inclusive playground invites children of all developmental abilities to play and grow. It includes stimulating equipment that encourages all children to play together and provides a fun and engaging experience for all.
Accessible playgrounds are built to accommodate children with physical disabilities, and accessible playground equipment features ramps and transfer points so all children can use play structures side by side. You can also include customized swings so children with physical disabilities can enjoy soaring through the sky next to their friends.
You'll also want to choose inclusive and accessible playground equipment to comply with the Accessibility for Ontarians With Disabilities Act (AODA). The AODA aims to benefit all Ontarians by enforcing accessibility standards and removing barriers that prevent individuals with disabilities from fully participating in the community.
The key to creating an inclusive playground is to choose a mix of playground equipment that encourages children with a wide range of abilities and preferences to play. The goal is to be fair to all children and give each child a chance to develop new skills and enjoy fun challenges together or individually. For example, play equipment that encourages imaginative play allows children of different physical abilities to play and grow together. You might include a ground-level playhouse, for instance, so children can act out different roles and have fun together regardless of physical ability. Make sure to include equipment that allows children who prefer to play independently to enjoy time at the playground, too. Here are some ideas:
Multi-sensory equipment: Consider including activity panels and equipment that stimulate the senses, such as puzzles and musical elements. Children of varying physical abilities can enjoy multi-sensory activities together and benefit from the stimulation.
Wheelchair accessible equipment: Incorporate ramps and equipment such as wheelchair-accessible swings or gliders in your playground, so children in wheelchairs can enjoy the thrill of playtime and develop skills.
Independent play equipment: Include equipment that provides opportunities to play independently like swings, spring riders, and quiet spaces such as tunnels and cozy hideouts.
Overall, you'll want your playground to include a variety of simulating equipment for all children, including ground-level play activities and activities accessible by ramps and transfer systems. Make sure you'll have enough space for children to access the playground equipment easily. Also, include a variety of equipment sizes so children of all ages can play in age-appropriate areas.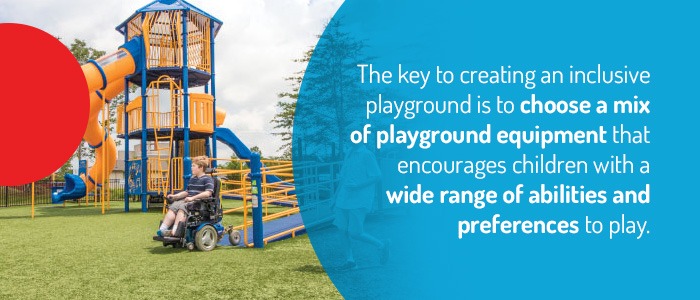 6. Custom and Themed Playgrounds
Aim to select playground equipment that sparks the imagination and gets kids excited to play. Depending on your budget, you might choose a custom or themed playground to make your playground stand out from the rest. If you make your playground unique or choose an adventurous theme, kids and families will look forward to visiting and enjoying hours of fun and exercise.
When it comes to themed playgrounds, you have many options. For example, you might choose a playground with a dinosaur theme that sends kids back to the Jurassic era. They can set their imaginations free as they swing close to a Tyrannosaurus rex or hide from pterodactyls in a giant dinosaur bone. Either way, they'll be bound for a memorable adventure.
Some kids might love to play in a castle-themed park where they can act out their favorite fairy tales. They'll develop social and cognitive skills as they play different roles with other children and experience life from various perspectives.
Overall, themed playgrounds feature stimulating sensory elements that encourage kids to explore different sights, sounds and textures. Themed playgrounds are also attractive, colorful and add visual appeal to a community.
You also have the option of creating a custom playground to incorporate local themes, colors or designs into the playground of your dreams. If you wish to create custom playground equipment, you'll get to share your vision with a dedicated team of designers and engineers who will then bring your ideas to life. Whether you choose a custom or themed playground, you can create a truly unique experience for the children in your community that'll keep them coming back for years.
Different Types of Playground Equipment
Lastly, you'll want to consider what children enjoy playing on the most when choosing playground equipment. Think of the type of equipment the children already enjoy and consider how the equipment will benefit them and foster skill development. If you select a variety of equipment, you'll be sure to include something for everyone.
In general, kids love bright cheerful colors, exploring their senses, testing their physical abilities, competing with friends and having adventures. Playground equipment is designed for kids to have fun while they safely explore their abilities. Here are some examples of timeless playground equipment that kids love and parents feel good about:
Swings: Remember spending sunny afternoons swinging high into the sky? Swings are a playground must-have. Swinging is a fun activity for both kids and adults and is a great way to burn calories. There are all kinds of swings available for all ages and abilities.
Balance beams: Balance beams come in a variety of heights and shapes. This piece of playground equipment helps children develop spatial awareness and coordination as they maintain balance and walk across the beam.
Climbers: Kids love to climb, and it's great exercise, too. Climbers come in a range of shapes and sizes to fit any playground theme. You might choose rock climbing walls, or climbing structures shaped like animals, for example. A net climber fits perfectly with a pirate-themed park. Climbers encourage kids to get active, build their strength and let their imaginations soar.
Crawl tubes: Crawl tubes are an easy-to-use ground-level activity, and they are especially appropriate for toddlers who love to crawl, hide and explore new spaces. Crawl tubes also add variety to a playground and can be a fun addition to dramatic play or a hiding game. Lastly, crawl tubes can provide a peaceful refuge when kids need to take a break from the excitement.
Merry-go-rounds: Merry-go-rounds are tons of fun for kids who love to spin around with their friends. There are a variety of safe and fun merry-go-rounds available, from spinners that allow kids to sit individually to merry-go-rounds that let kids sit within a frame. With new twists on this playground classic, kids can safely enjoy a ride at the park.
Music equipment: Many kids can't wait to make noise without a care in the world, and the playground is the perfect place to let loose. With musical equipment, kids of all developmental abilities can experiment with sound and express themselves creatively. From drum activities to xylophones, musical equipment adds a unique touch to a playground, especially for children who enjoy auditory play or playing independently.
Slides: Slides are another playground classic –– for a reason. Kids love to climb to the top of a slide and zoom to the ground below. Slides create a thrilling experience that encourages kids to climb, build strength and burn calories without noticing. Slides also fit into various games and dramatic play easily. You can choose from a range of slides to suit your playground theme or budget, from spiral slides to tunnel sides. Parents especially appreciate tunnel slides because of the enclosed sides. Make sure to include different sizes of slides so kids of all ages can play.
Playhouses: Some playground structures come with forts or playhouses, or you can purchase a ground-level playhouse separately. Playhouses foster the imagination and inspire kids to play make-believe. Playhouses also provide shade to help kids cool down on a hot day. Playhouses come in a variety of styles and shapes, from pirate ships to treehouses.
Overhead bars: Overhead bars help kids build upper body strength and can be part of their adventure. There are many different types of overhead bars available, some with innovative designs, to add to the excitement and challenge of outdoor playtime.
Spring riders: Spring riders are basically a seat on a spring. You can find spring riders shaped like animals, bugs, cars, trucks and other objects. Young children enjoy riding on spring riders and pretending they're taking their favorite animal for a spin.
Request a Quote From PlayPower Canada
Choosing the right playground equipment for your playground can feel overwhelming. With so many factors to consider, and so many types and styles of playground equipment available, it can be a challenge to narrow your options. Let's not forget the need to keep the budget and location in mind. Fortunately, you don't have to build your playground alone. At PlayPower Canada, our team of experts is waiting to answer your questions and help you design a safe, inclusive playground kids will love, and parents will feel proud of.
Since 1947, PlayPower Canada has been a leader in commercial playground equipment in Canada. We bring the best brands to the schools, parks and communities we serve. Whether you want a themed playground to rev young imaginations, have dreams for a custom design or need an affordable solution that invites all kids to have fun while they grow, we will work with you to meet your needs and your budget. To learn more about choosing high-quality playground equipment for your playground, contact us today, or request a quote!